By Jerry McClain (Narcotics Division)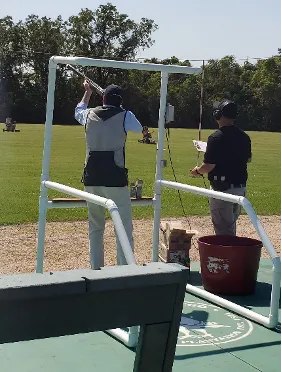 The Sixth Annual Beck & Masten True Blue Clay Shoot, held October 2, 2020 at the Providence Plantation private gun club in Rosharon, hosted 25 teams this year. The primary beneficiary for the event was the Houston Police Foundation, a nonprofit 501(c)(3) corporation.
"We wanted to have an outdoor event that was not crowded so we cut the field in half to accommodate our major sponsors. We believe this was a great way to honor those that support us each year and keep them in a safe environment," said Charlene Floyd, who is the Executive Director of the Houston Police Foundation.
Shooters began showing up at 11:00 a.m. and were treated to lunch sponsored by Chick Fil A. Shooters then hit the courses at 2:00 p.m. with all competition completed by 4:30 p.m. While scores were tallied the shooters and staff enjoyed a steak dinner cooked and served by Saltgrass.
The 13 shooting stations were run by members of the Houston Police Department Marksmanship Team who were trained the day before on being "trappers". Team members were then given the opportunity to shoot the same courses. At the end of the day the top shooter was Timothy Roberts (Fleet Unit), who successfully hit 68 orange and black clay pigeons.
The top woman shooter was Haley Dunn who shot a 76 out of 80. The High Over All shooter, Justin Napier, who shot an amazing 80 out of 80 was also on the second place 4-shooter Laminack, Pirtle and Martines team consisting of Napier, Major Pirtle, Tom Pirtle and Henry Valazquez. The 4-man team shot a 296 for the day.
The Presenting Sponsor, Beck & Masten fielded two teams. The 4-shooter Beck & Masten Team 2 consisting of Paul Quin, Jerry Blackwell, Drake Davis and Danny Davis took first place after shooting a combined 300 for the day.
The Alliance Printing team consisting of Austin Keimstead, Larry Lobb, Carlos Vaquero and Charles Moyse finished a close third after shooting a 294 for the day.
Daniel Dinh (Recruiting) running Stage 6
"Special Thanks to the HPD Marksmanship Team that did a great job as "trappers" for the event; HPD employees and volunteers; James Masten with Beck & Masten as our Presenting Sponsor, Lawrence Berry with Bay Ltd who provided the beautiful facility at Providence Plantation for the shoot, Matt Garver who managed the shoot this year. Without their help we would not have had a successful event," Executive Director Charlene Floyd said.
The 2020 True Blue Clay Shoot raised over $150,000. "The funds from this shoot this year are being used to provide helmets and face shields for our HPD Officers," Floyd said.
This year's sponsors included: Presenting Sponsor Beck & Masten; Course Sponsor LaTable; Site Sponsor Bay Ltd – Lawrence and Danielle Berry; VIP Sponsor Keith and Alice Mosing; Cart Sponsor Rich and Nancy Munguia; Cap Sponsor Deutsch Fine Jewelry; Shirt Sponsor CLEC Distribution; Photography Sponsor The Hildebrand Family; Trophy Sponsor Annie Beck; Print Sponsor Alliance Print Evolved; Dessert Sponsor Darryl and Lori Schroeder; Game Sponsor Kevin and Amy Comiskey; Lunch Sponsor Chick Fil A; Wine Sponsor Bancorp South Bank – Walter Beard; Tote Bag Sponsor Laminack, Pirtle and Martinez LLP; Beer Sponsor Silver Eagle Distributors Houston; Beverage Sponsor RGB Hospitality.
Interested in becoming a member of the Houston Police Foundation or want to donate, visit their website at https://www.houstonpolicefoundation.org